Born in 1992, Delia has specialized in the production and planning of oleodynamic, pneumatic and hydraulic machines, manipulators, robots and similar equipments.

This company has been operating for a number of years in cooperation with manufacturers and users of machinery for plastic and rubber materials, and has done much to update the working cycles, automatic equipment and performance of the machines.

| | |
| --- | --- |
| | CONTACT: |
DELIA Srl
RUBBER MOLDING MACHINE AUTOMATION

Via Magellano, 4
20090 Cesano Boscone - Milano (Italia)
Tel. +39 02.48600921
Fax: +39 02.48600770
E-mail: deliasrl@deliasrl.it

Please enter the email address where you want to receive business proposals from Delia Srl .
Authorize the use of my personal data (ex law 675/96).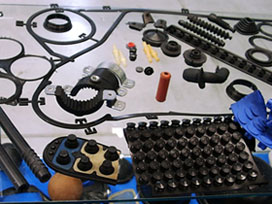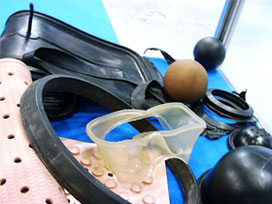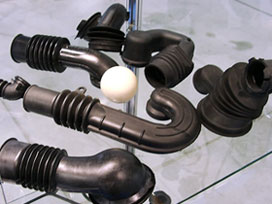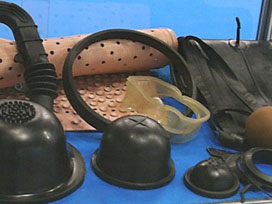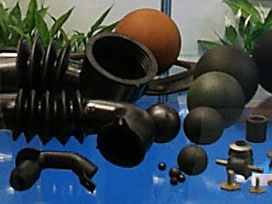 1- MANIPULATOR AND ROBOT

TELESCOPIC MANIPULATOR FOR THE AUTOMATIC EXTRACTION OF RUBBER MANUFACTURED ARTICLES
The MANIPULATOR IS a machine for automatically loading and unloading moulding presses. THE HANDLERS are stand alone electric pneumatic and/or hydraulic units which are coupled to vertical and horizontal injection compression presses to remove moulded pieces and to load inserts.
View all >>
2- ACCESSORIES FOR MANIPULATOR AND ROBOT

MECHANICAL HANDS (PLIERS) FOR ANTHROPOMORPHIC AND CARTESIAN ROBOTS
Mechanical hands (pliers) are pneumatic units for removing manufactured articles (sleeves and bellows) made of rubber from the males, on which they are pressed. Mechanical hands (pliers) can be applied to anthropomorphic robots or manipulators with Cartesian axes. ....
View all >>
3- ROBOTIZED ISLAND (CELL)

ROBOTIZED ISLAND (CELL) FOR THE PRODUCTION OF PARTS FOR THE AUTOMOTIVE INDUSTRIES Rear bellows, front bellows, car door bellows
The robotized island for the production of parts for the automotive industry integrates the various production phases from pressing to the finished product. It is used for automatically drawing, trimming and fitting up the injection peduncles.
View all >>
4- CHANNEL THERMOREGULATED

DOUBLE THERMOREGULATED BLOCK
This device is used to inject into several points in the mould; it consists in a steel block where are placed injection runners, which are manteined at a safety temperature of 60-90 C°, ...
View all >>
5- THERMOREGULATED TRANSFER

THERMOREGULATED TRANSFER FOR INJECTION PRESSES
This device is used to inject into several points in the mould. It consists in a tempered steel block used as a plunger and a tempered steel block used as a pot where there are some holes to receive the nozzles: these allow the compound to cross from the transfer pot to the item to fill up. ...
View all >>
6- RUBBER INJECTOR

RUBBER INJECTOR matched to a compression machine for membrane production
Are used to convert compression presses to injection presses or a single-colour injection process to a two-colour operation.
View all >>
7- VOLUMETRIC PUMP

VOLUMETRIC PUMP FOR THE INJECTION OF ELASTOMER PLASTIC MATERIALS
To be used in injection pressing and in continuous production and palletization of rubber items or preformed pieces....
View all >>
8- VOLUMETRIC PREFORMING MACHINE

VOLUMETRIC PREFORMING MACHINE FOR ELASTOMERIC MATERIALS
Is a machine for the continuous production and palletization of items or preformed rubber pieces. For metering it uses a pump specially built for rubber, a patent of which Delia srl has the exclusive use....
View all >>
9- CUTTING MACHINE

CUTTING MACHINE
The shearing machine can be used in line with manipulators or out-line, with a press for rubber compression pressing.
The shearing machine is used to cut in the length rubber sheets for the manual or automatic loading of presses for compression pressing.
View all >>
10- RING FITTING MACHINE

RING FITTING MACHINE
Is used for automatically fitting plastic or metal rings into a rubber packing ring.
The machine is composed of a mechanical hand with a vertical electrical axis, which draws the packing into which the plastic ring is to be fitted from an accumulation store and places it on centering pliers....
View all >>
11- GRINDING MACHINE

GRINDING MACHINE
This electro-pneumatic, PLC controlled machine is used for the external grinding of solid rubber spheres or spheres fitted with an insert.
It is composed of: a loading group fed by an accumulation channel where the raw spheres to be machined are deposited - the loader lifts the spheres up to a pre-determined height from the reference sphere placed at its bottom; ...
View all>>
12- SELECTING AND CHECKING

SELECTING AND CHECKING MACHINES
Selecting and checking machines are used to orient and check metal or plastic inserts as well as rubber items ...
View all >>
13- HOSE PACKING

HOSE PACKING MACHINE
This machine is used for packing hoses made of pressed rubber. It is a PLC-controlled machine and makes both electrical and pneumatic movements.
View all >>
14- CONSULTANCY SERVICES FOR RUBBER INDUSTRY

CONSULTANCY SERVICES FOR:


Automation and robotics rubber moulding machine
Robotized island (cell)
Rubber moulding machine
Cod.Fiscale/P.iva: 10581850152 - Cap.Soc. € 10.400 interamente versato
n° Iscr. Trib. 323462 - vol.8052 - fasc. 12 / C.C.I.A.A. 1386177 - REC. 237433